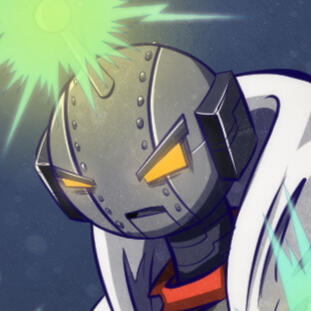 GensoX
Freelancer Illustrator
---
FULL COLOR
---
Headshot
Head-shot: $20

+ Extra Character: $15

+ Elaborated Background: $25
---
Half-Body
Half-Body: $30

+ Extra Character: $25

+Elaborated Background: $25
---
Fullbody
Full-Body $35

+ Extra Character: $30

+ Elaborated Background: $25
---
Example
SIMPLE SHADOW
---
Headshot
Head-shot: $18

+ Extra Character: $13

+ Elaborated Background: $20
---
Half-Body
Half-Body: $25

+ Extra Character: $20

+Elaborated Background: $20
---
Fullbody
Full-Body $30

+ Extra Character: $25

+ Elaborated Background: $20
---
Example
FLAT COLOR
---
Headshot
Head-shot: $12

+ Extra Character: $8

+ Elaborated Background: $15
---
Half-Body
Half-Body: $15

+ Extra Character: $10

+Elaborated Background: $15
---
Fullbody
Full-Body $20

+ Extra Character: $15

+ Elaborated Background: $15
---
Example
BLACK & WHITE
---
Headshot
Head-shot: $10

+ Extra Character: $7

+ Elaborated Background: $13
---
Half-Body
Half-Body: $12

+ Extra Character: $9

+Elaborated Background: $13
---
Fullbody
Full-Body $16

+ Extra Character: $12

+ Elaborated Background: $13
---
Example
LINEART / SKETCH
---
Headshot
Head-shot: $7

+ Extra Character: $5

+ Elaborated Background: $10
---
Half-Body
Half-Body: $10

+ Extra Character: $7

+Elaborated Background: $10
---
Fullbody
Full-Body $15

+ Extra Character: $10

+ Elaborated Background: $10
---
Example
CHARACTER REFERENCE SHEET
---
---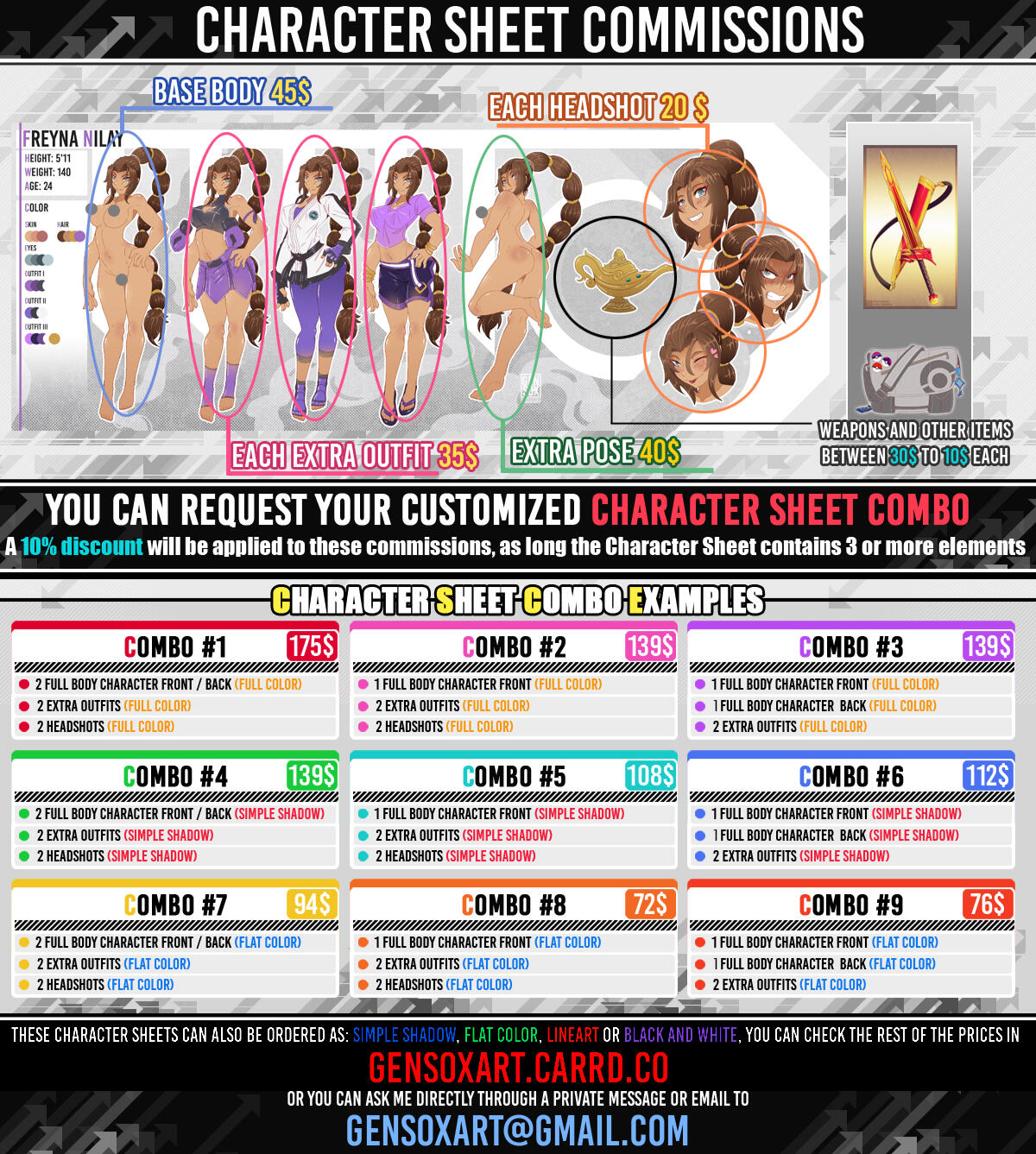 + Extra Outfit (front or back)
- Full color: 20$
- Simple Shadow: 15$
- Flat Color: 10$
- Black and white: 8$
- Lineart: 5$
+ Extra Weapon / item
- Full color: 10$ - 20$
- Simple Shadow: 5$ - 15$
- Flat Color: 5$ - 10$
- Black and white: 5$ - 10$
- Lineart: 5$
Combo Examples
---
Combo #1 - 115$
1 Full Body character Front (Full Color) = 35$

1 Full Body character Back (Full Color) = 30$

2 Extra Outfits (Full Color) =20$x2

2 Headshots (Full Color) =15$x2
=35+30+20x2+15x2 = 135$ - 15%discount
Total price = 115$
---
Combo #2 - 89$
1 Full Body character (Full Color) =35$

2 Extra Outfits (Full color) = 20$ x 2

2 Headshots (Full Color) = 15$ x 2
=35+20x2+15x2 = 105$ - 15%discount
Total price = 89$
---
Combo #3 - 89$
1 Full Body character Front (Full Color) = 35 $

1 Full Body character Back (Full Color) = 30 $

2 Extra Outfits (Full color) = 20$ x 2
=35+30+20x2 = 105$ - 15%discount
Total price = 89$
---
Combo #4 - 94$
1 Full Body character Front (Simple Shadow) = 30$

1 Full Body character Back (Simple Shadow) = 25$

2 Extra Outfits (Simple Shadow) =15$x2

2 Headshots (Simple Shadow) =13$x2
=30+25+15x2+13x2 = 111$ - 15%discount
Total price = 94$
---
Combo #5 - 73$
1 Full Body character (Simple Shadow) =30$

2 Extra Outfits (Simple Shadow) = 15$ x 2

2 Headshots (Simple Shadow) = 13$ x 2
=30+15x2+13x2 = 86$ - 15%discount
Total price = 73$
---
Combo #6 - 72$
1 Full Body character Front(Simple Shadow) = 30 $

1 Full Body character Back(Simple Shadow)= 25 $

2 Extra Outfits (Simple Shadow) = 15$ x 2
=30+25+15x2 = 85$ - 15%discount
Total price = 72$
---
Combo #7 - 60$
1 Full Body character Front (Flat Color) = 20$

1 Full Body character Back (Flat Color) = 15$

2 Extra Outfits (Flat Color) = 10$x2

2 Headshots (Flat Color) =8$x2
=20+15+10x2+8x2 = 71$ - 15%discount
Total price = 60$
---
Combo #8 - 47$
1 Full Body character (Flat Color) =20$

2 Extra Outfits (Flat Color) = 10$ x 2

2 Headshots(Flat Color) = 8$ x 2
=20+10x2 +8x2 = 56$ - 15%discount
Total price = 47$
---
Combo #9 - 47$
1 Full Body character Front (Flat Color) = 20 $

1 Full Body character Back(Flat Color)= 15 $

2 Extra Outfits (Flat Color) = 10$ x 2
=20+15+10x2 = 55$ - 15%discount
Total price = 47$
---
Example
Weapons / Items
---
the price of a weapon or item will be between $20 and $5, depending on the type of coloring and its complexity, but alternative versions, transformations, or variations in the design can increase the price
- Full color: 10$ - 20$
- Simple Shadow: 5$ - 15$
- Flat Color: 5$ - 10$
- Black and white: 5$ - 10$
- Lineart: 5$
---
Example
Commissions Form
---
This form is a guide for you to use if you do not have a lot of experience applying for commissions, it is not necessary to follow it step by step,
Client name or nickname: if you want the drawing to remain anonymous or you do not want me to share the drawing, please indicate it here

Commission type: use this space to indicate the type of coloring (full color, Flat color, etc.), if it will be a full-body commission, half-body commission, etc., or if you want it to be a character sheet, etc.

Number of characters: if you are going to want more than one character please indicate it here

General description of the image: leave here your general description of the commission, it doesn't have to be anything very detailed, it's just to have a better idea of what you want. If you have any idea or scene in mind you can leave a description here, or also if you want the character to be in a particular pose, you can indicate it in this section, any additional details you can provide will be welcome.

Description of the character: if you have previous references of the character please send them in the references section, but if it is not the case and it is an original character, you can leave your character description here, you can also use this space to share some extra information about the character (type of clothes he/she wears, personality, etc),

Background Info: if you want a detailed background for the drawing, leave the details here. if not, leave this space blank

References: this section is for you to place the Reference Images of the character, or any reference for the drawing: clothes, poses, the background, etc., any reference or guide image that you can send and that you think will serve to have a better guide the drawing will be welcome

Paypal email: your PayPal email to request payment
---
To request a commission send a message to this email address
[email protected]
Or contact me through twitter or Deviantart:
Twitter.com/unskyblog
Deviantart.com/genso-x
commission terms
---
Before applying for a commission, please read the following
Please excuse my bad English, English is not my native language, so it is possible that some of the following text contains an error or a bad wording, if that is the case please excuse any inconvenience or misunderstanding.
1 - I will keep the rights to publish my works in any form

2 - I will keep the right to post the commissions on my social media for advertising, HOWEVER, if you do not want me to publish any piece and keep it private, I have no problem accepting this request, but please indicate it before starting with the commission

3- I maintain the right to reject any commission

4 - The payment will be made in two parts, the first half will be requested before starting to work on the drawing, and the second will be made before delivering the final drawing (a preview of the final drawing will be delivered before the second payment so that the client check that the commission has actually been completed)

5 - After placing the order and making the first payment, an initial sketch will be given to the client so that he can review it, and indicate if he wishes modifications before proceeding with the final drawing. To avoid this stage taking longer than necessary and you can get your drawing as soon as possible, PLEASE make sure you provide a description and adequate references (if you are not sure what data you need when requesting the commission, use this FORM), the more specific you are with your initial order, the fewer modifications will be necessary and the faster you will be able to complete the commission.

6 - After delivery of the final drawing, the client will only have the option to request a total of 3 modifications, and these will only be made in the colors. Modifications in the composition or base design of the drawing will be reserved only for the sketch stage.

7 - The waiting time from when the commission is requested until the final drawing is delivered can vary from 15 days to a month, but the total time will depend on the complexity of the drawing and my availability. Normally I will indicate to each client the estimated time of the work, so please, if I tell you that in two weeks I will deliver the work to you, avoid asking ahead of time if it is ready, the fact that you are in a hurry will not make me work faster.

8 - If you are a member of patreon, please remember to indicate it before when placing the order (indicate your nickname and tier) to be able to make use of the member discounts

9 -All payments will be made through paypal, and refunds will not be accepted after delivering the final drawing

8 - I make SFW and NSFW commissions, andI accept requests for drawings of: OC's, Fan-arts, character designs, anthro, mechas and monsters. I do not make NSFW drawings with the theme of infants, elderly, Yaoi or gore, if you want to see a broader example of my work these are my galleries:
10 - If you have any doubts or questions about what type of drawings I do, or something of the above has not been clear, I invite you to contact me and ask what you need, you can send me an email at any time to [email protected], or a private message to my twitter account
---
To request a commission send a message to this email address
[email protected]
Or contact me through twitter or Deviantart:
Twitter.com/unskyblog
Deviantart.com/genso-x
Términos para las comisiones
---
Antes de solicitar una comisión por favor leer lo siguiente
1-Yo mantendré los derechos para publicar mis trabajos en cualquier forma

2-Tambien mantendré el derechos de postear las comisiones en mis redes sociales para publicidad, SIN EMBARGO, si no deseas que publique alguna pieza y que la mantenga en privado, no tengo problema en aceptar este pedido, pero por favor indicalo antes de iniciar con la comisión

3- Mantengo el derecho de rechazar cualquier comisión

4-** El pago se realizara en dos partes**, la primera mitad la solicitare antes de empezar a trabajar en el dibujo, y la segunda se realizara antes de entregar el dibujo final (se entregara un preview del dibujo final antes del segundo pago para que el cliente compruebe que efectivamente la comisión a sido completada)

5- Tras realizar el pedido y hacer el primer pago, se le entregara al cliente un boceto inicial para que pueda revisarlo, y me indique si desea modificaciones antes de proceder con el dibujo final. Para evitar que esta etapa se extienda mas de lo necesario y usted pueda obtener su dibujo lo antes posible, POR FAVOR, asegúrese de proporcionar una descripción y referencias adecuadas (si no estas seguro de que datos necesitas al pedir la comision, utiliza ESTE FORMULARIO), mientras mas concreto sea con su pedido inicial, menos modificaciones serán necesarias y mas rápido podre completar la comisión.

6-Tras la entrega del dibujo final, el cliente solo tendrá opción a solicitar un total de 3 modificaciones, y estas solo se realizaran en los colores. Modificaciones en la composición o diseño base del dibujo se reservaran solo a la etapa de boceto.

7- El tiempo de espera desde que se solicita la comisión hasta que el dibujo final sea entregado puede variar de entre 15 días a un mes, pero el tiempo total dependerá de la complejidad del dibujo y mi disponibilidad. Normalmente le indicare a cada cliente el tiempo estimado del trabajo, así que por favor, si te digo que en dos semanas te entregare el trabajo, evita estar preguntando antes de tiempo si ya esta listo, el que tu estés apurado, no hará que yo trabaje mas rápido.

8- Si eres un miembro de patreon, por favor recuerda indicarlo antes al realizar el pedido (indique su nick y tier) para poder hacer uso de los descuentos para miembros

9- Todos los pagos se realizaran por medio de paypal, y no se aceptaran reembolsos tras entregar el dibujo final

8-realizo comisiones SFW y NSFW, y acepto pedidos de :OC's, Fan-arts, diseños de personajes, anthro/furrys , mechas y monstruos. No realizo dibujos NSFW con temática de infantes, ancianos, Yaoi o gore, si quiere ver un ejemplo mas amplio de mi trabajo estas son mis galerías:
10 - Si tiene alguna duda o pregunta sobre que tipo de dibujos que realizo, o algo de lo dicho anteriormente no a quedado claro, te invito a que me contactes y preguntes lo que necesites, puedes enviarme un correo en cualquier momento a [email protected], o un menaje privado a mi cuenta de Twitter
---
Para solicitar una comision envia un mensaje a
[email protected]
O contactame a travez de Twitter o Deviantart
Twitter.com/unskyblog
Deviantart.com/genso-x
commission terms
---
To request a commission send a message to this email address
[email protected]
Or contact me through twitter or Deviantart:
Twitter.com/unskyblog
Deviantart.com/genso-x
You can support my work on patreon, where you can receive monthly rewards
And you can see more of my work in the following pages